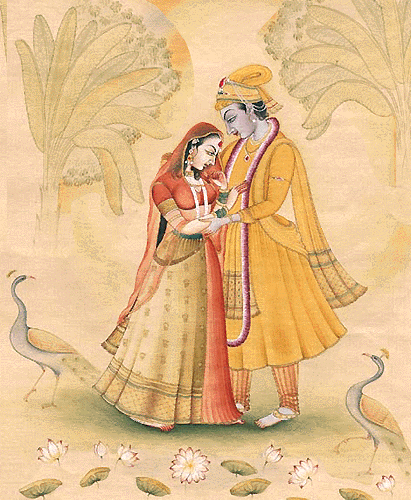 hari hari! ki mora karama abhaga
biphale jivana gela hrdaye rahila sela
nahi bhela hair-anuraga
O Lord Hari! Alas My own misdeeds have made me an unfortunate wretch. There is an intense pain of having wasted my life by not developing love for You, which remains and grows in my heart.
yajna dana tirtha-sthana punya-karma japa dhyana
akarane saba gela mohe
bujhilama mane hena upahasa haya jena
vastra hina alankara dehe
My Sacrifice, charity, bathing at holy places, pious activities, chanting mantras and meditation are all useless and like an illusion. These religious activities are just jokes, or like ornaments an a naked body.
sadhu-mukhe kathamrta suniya bimala citta
nahi bhela aparadha-karana
satata asat-sanga sakali haila bhanga
ki kariba aile samana
Even after hearing the nectarean topics of Krsna, my mind is still not purified because of my offenses. I always associate with non-devotees, and thus break all moral principles of life. What will I do when death comes to me?
sruti smrti sada rabe suniyachi ei sabe
hari-pada abhaya sarana
janama laya sukhe krsna na balinu mukhe
na karinu se rupa-bhavana
I have heard that srutis and smrtis declared that we should take shelter of the lotus feet of Lord Hari which grant fearlessness, but still I never chanted the holy name of Lord Krsna or meditated on His beatiful form.
radha-krsna dunha-paya tanu mana rahu taya
ara dure jauka basana
narottama dase kaya ara mora nahi bhaya
tanu mana sampinu apana
Now I will fix my mind and body at the lotus feet of Radha and Krsna and my material desires will be vanquished. Narottama dasa says, "Since I have now surrendered unto You, my Lord, I no longer have any fears"
Prarthana – Song 8 by Srila Narottama dasa Thakura Mahasraya